Leafing through the haunting and chilling circumstance of Culion over a century ago, Iza Calzado, Meryll Soriano, and Jasmine Curtis-Smith traverse history and the human experience to breathe life to story that is requisite in this day and age.
Related: Jasmine Curtis and Ruru Madrid On The Emotional Toll Of Filming Cara X Jagger
"Who am I? What am I doing here?" writes Jasmine Curtis-Smith with playful liberty on an Instagram post as she waxes a lingering awe on standing on the same space as Iza Calzado, Meryll Soriano, and the indefatigable, incomparable, and inimitable Ricky Lee. This is no singling out of self-pity by any means, but rather a disbelief that she gets to create a compelling story with industry greats aboard the Culion ship.
"It's very surreal, because I didn't think I would have the opportunity to do a project by these so well known [figures] and kumbaga, sila na ang mga pioneers eh. And for me, to have a chance to even mingle with them…I thought baka matagalan pa for me to have that chance," she muses. "Though I love to be involved in all these different types of genres and storylines, I just always thought, I don't know, sometimes you have doubts, and you don't feel good enough be at par to be workling with these people." There is clearly still a lingering sense of being overwhelmed, one that the young actress relishes and looks to no rush at shaking off, what with her eyes twinkling at every mention of their name. But despite her initial wariness of her own capabilities, there has since grown a close, almost familial bond between the ladies of the Alvin Yapan-helmed film. "I always wanted to share the screen with Iza and Meryll, and here, we not just became co-actors, parang naging sisters na rin kami," she relates.
It seems to be an ironic and interesting offshoot, especially since Culion is moored on varying increments of being ostracized. Fielded for this year's Metro Manila Film Festival, the movie doesn't set out to be that mainstream commercial draw that barely scratches the surface level of thought and compelling entertainment. Based on the yellowed pages of history, one that has been left to flap in the wind of a bygone memory, Culion tells the story of lives that once-upon-a-time was made to exist beyond the margins of society when the island located at the northern tip of Palawan stood as a land of limbo at best, or for most, an inescapable pit of eternal damnation.
History dictates the haunting genesis of Culion as a first-of-its-kind leper colony, made mandate by the American Commonwealth in the Philippines that intended to curb and isolate what was then an incurable condition. Inadvertently shutting it off from the world, the narratives of people forced into a divide between the leproso (leper) and the sano (clean), were veritably erased from existence. However, more than a century since being built on a premise of chilling circumstance, and mere years since being declared leprosy-free by the World Health Organization in 2006, the story of the island endures with the earnest film, Culion.
"Even I wasn't aware of the history. So, making this movie was really a major shedding of the light," discloses Jasmine Curtis-Smith who together with Iza Calzado and Meryll Soriano spent two weeks on the island to bring Culion to life. "When we when we got there, everything that we read the from materials that we needed to read to the script, and then all of the story conferences, napaka-heartbreaking and empowering nung place itself and the people that we've talked to," details Meryl. "Hindi ka dapat matatakot, especially ako as an actor. It's something very powerful and also because it's so relevant. You know, you think that it is just a story about Culion, about what they went through their struggles, and victories. More than that, it is very telling of what we're going through it right now. So, it's good to represent something that is paramount to what's happening now. As you're telling a story, dun mo lang mare-realize na it's really true: history repeats itself. You know, you read the news, what other countries and you see, oo nga 'no? But this is our story, and it should be told by us, and I'm just really honored we got to do so."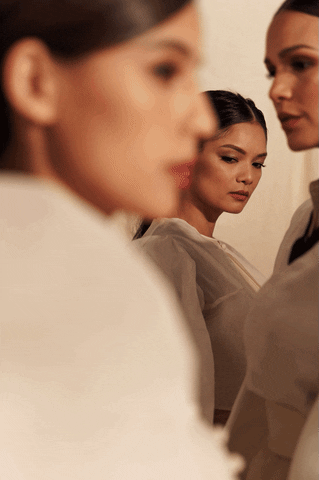 In the enigmatic and evocative exposition of the great Ricky Lee's material, Culion explores the facets of the human condition in the 1940s through the eyes of Anna (Calzado), Ditas (Soriano), and Doris (Curtis-Smith). With the weight of world heaved on their shoulders, these women are brought together by a dreaded condition beyond their control, struggling and negotiating between hope and despair to see a life beyond the scars and scabs that form ridges of stigma on their character's skin. Treading the line of giving up, giving in, and giving it a fight of their lives, the three friends prove how disease and death holds no ground against the persistent nature of their tenacious spirits combined. "I think it's a very relevant subject matter even if this happened long ago. It's a universal story," shares Ricky Lee. "Kuwento siya ng galit, at ng lungkot at ng saya, at ng panganib, at ng stigma. Lahat ng mga sangkap na dapat nandoon sa isang kumpletong buhay. Kapag nawala ang lungkot o ang saya hindi na kumpleto ang buhay."
Echoing the same sentiment, Iza Calzado essays how her experience in the film gave her a deeper, more meaningful understanding of the world we live in today. "Ang learning ko sa materyal talaga ay kanya-kanya sila ng storya, kanya-kanya sila ng pinanggalingan, but they were plucked out of their homes and lives, and forced to live on this island to see eye-to-eye, united by a quote-unquote disease with people judging them and not treating them well because of it—and having to live with it," she explains. "I guess that there's a bond between them because of that, you only understand it if you're going through it. And then together, they have to be united. This says a lot about how the Philippines where we have many things that divide us as a country: religion, politics, beliefs, and so many other things. But at the end of the day, if you go to the core of it, ano ba 'yung pagkaka pareho nating lahat? Tayo lahat ay Pilipino, and so as long as you understand that, sana maging united tayo in wanting a better future."
Made for a deep-seated impact, Culion careens out of the typical festival trope of entry-level, ephemeral amusement. What it drives at is to educate and empathize, encouraging this conversation that we should be facing head on rather than being consumed by diversions.
"It's so relevant to the time now, even if it's a part of history. While it always will repeat itself, we can learn from it. I feel like, we're at the point where we need to look at that piece of history and see where we are now, assess it as a country, and figure out a better way to move forward, because naliligaw tayo lately—and not just us, the rest of the world is, too," says Jasmine. "So, if we can finally be a bit more progressive with how we handle things, and seeing that we've done it before, with something like Hansen's disease, I'm sure we can do it again now with politics, do you know what I mean?"
Focusing on the adversity faced by the community plagued by leprosy, Culion trains our gaze at an overarching erosion of humanity and society today, one that the three women recognize and fight for as Anna, Ditas, and Doris, and ultimately on their own accords beyond the silverscreen. "There's gravitas there wherein there is a sense of responsibility of telling the story properly, giving it justice, including the characters," says Iza, elucidating on the heart and soul that threads through the film's rich tapestry of stories in the Ricky Lee piece, venerating women for their strength that is both resolute and restrained.
"There are strong women in this women-led story, and it's actually very progressive, especially for my character, Anna. I think it's nice to see that it's possible pala that even women during that time are already like this, you know? Iniisip ko kasi, during that time, meron bang babaeng ganito?" wonders Iza. "I mean we have a lot of strong heroines. I guess it resonates in today's society, because ang dami 'di ba? Ang daming pagkakataon na women are changing the way women have been depicted through the years. So, it's good to see that women are depicted as strong women with minds of their own and as leaders, even before our time. Posible nga, so it's even more possible now."
What the film essentially does is, as it seems requisite and imperative these days, is to validate the human condition, the stories tucked within, and the inescapable truth that intends to see the light of day and triumph. "The most important thing right now is hope. I think sometimes we get drowned by obstacles, by problems. We complain so much, we have something to whine about, but we forget to be hopeful," articulates Meryll Soriano. "I think that is one lesson that Culion has taught me—to hope and to thrive, and then you'll get there. I think all of us are going to that right now and we need that to move forward."
Just as it does in the biblical sense, one that leprosy has a long-standing link to with its unclean pariah-like discrimination (just ask Matthew, Mark, and Luke), we are reminded to exercise compassion, because as the film tells us, "nakahahawa ang pag-ibig," alluding to how love will conquer all, even a detestable manifestation on the surface. In the end, this isn't just the story of Culion, but in different capacities, it is ours, too, one that Iza Calzado, Meryll Soriano, and Jasmine Curtis-Smith, together with Alvin Yapan and Sir Ricky Lee agree that needs to be seen, heard, told, and understood by all.
"Siya, sila, kami…ako ang Culion."
A part of the Metro Manila Film Festival 2019, Culion is now showing in more than 60 cinemas nationwide.
---
Photography JL JAVIER
Art direction SHAIRA BUNGCAG
Styling ANGELO RAMIREZ DE CARTAGENA
Makeup LALA FLORES (IZA); YVES MARCELO (MERYLL); SAB ANTONIO (JASMINE)
Hair MONG AMADO (IZA); YVES MARCELO (MERYL); KIERLO VELASCO (JASMINE)
Sittings editor LYN ALUMNO
Shoot coordination THEA MARTIN
Shoot assistant MJ ALMERO