Exactly 10 years ago, July 23, 2010, the biggest boyband of our generation was formed on The X Factor stage. Through the years, One Direction grew up before our very eyes. And as the years passed, we realize that we grew up with them, too. 
To commemorate the milestone moment, fans all over the world have started reminiscing all the good years they stanned One Direction; making friends of a lifetime through the internet, watching a 1D concert for the first time, and revisiting old videos that used to make them smile.
The hashtag, #10YearsofOneDirection trended on Twitter last night, when the One Direction account surprised fans with a post after four years of hiatus. The post reads: "10 years of One Direction" with a reference to their song, "History."
You and me got a whole lot of history
For the celebration of a decade-worth of memories with the band, it was announced that a new One Direction anniversary website will be launched. The website will feature interactive and immersive experiences for fans.
Fans can also expect the release of a 10-year celebration video, which will document highlights from the band's career, including behind-the-scenes footage and an archive of music videos, artwork, and TV performances.
While there is no confirmation of a reunion between Harry Styles, Niall Horan, Zayn Malik, Louis Tomlinson, and Liam Payne, the fans are nonetheless celebrating the anniversary by listening to the newly released deluxe version of the Take Me Home album, a live album, and a rarities EP on Spotify.
As we wait for more details about the landmark anniversary celebration, let's take a trip down memory lane, shall we? Here are 10 of our favorite moments of One Direction:
July 23, 2010 – Bootcamp
The Bootcamp episode of The X Factor 2010 was when the boys nearly got eliminated. Initially rejected as soloists, they were put together as a group and were mentored by Simon Cowell. This was the day One Direction was formed…And the rest was history.
The X Factor Video Diaries
This is where all the inside jokes between 1D and the fans originated. From Zayn's famous 'Vas happenin'? line, to Louis'  liking to girls who "eat carrots," these video diaries from their X Factor days were a testament of the band's carefree, irresistibly hilarious charms that fans grew to love and cherish.
One Direction Video Diaries
After their time at The X Factor, the boys decided to make four more video diaries as a band while they were on tour to stay in touch with their fans.
1D Day
1D Day was a seven-hour live stream held on November 23, 2013, prior to the release of their third album, Midnight Memories. In true One Direction fashion, the live stream was just pure chaos and fun from the boys. Filled with games, music, crazy dares, and interactions with fans and other celebrities, this was truly an iconic day for Directioners all over the world. Raise your hand if you stayed up for 1D Day!
iCarly iGo One Direction episode
In this unforgettable episode of iCarly, Carly catches a contagious illness and accidentally gets Harry Styles sick. This is also the first show guesting for One Direction where they showcased their acting abilities.
Best Song Ever music video
This is by far our favorite music video One Direction has ever made. Their costumes, the (improved) acting, and just the fun of it all never ceases to put a smile on our faces.
Night Changes music video
Okay, this one has a special place in our hearts, too. Imagine going on a date with the boys like it's straight out of your favorite Wattpad fan fiction? Yup, they listen to us and know exactly what we want.
This Is Us and Where We Are movie
Nothing can get us more emotional than watching This Is Us and Where We Are to reminisce how far these boys have come. The documentary and concert film give us a glimpse of what goes on backstage, their recording process, and their life on tour.
Carpool Karaoke
On The Road Again Tour, Manila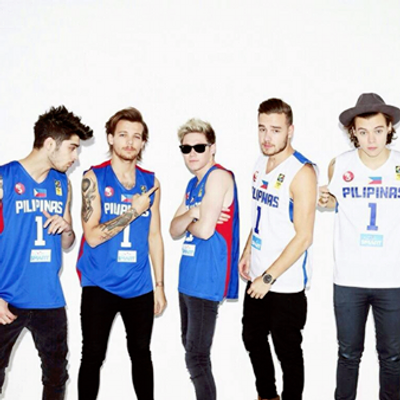 We're a little biased on this one because this was the first concert One Direction held without Zayn Malik in the band (cue our hearts shattering all over again), but this was also their first-ever concert in the Philippines after five long years of waiting for a tour date.