Believe it or not, sunglasses have become an essential part of a party outfit. Here are 5 places you can shop for a pair of sunnies.
Related: Take A Look: Never Bring Another Pair of Sunglasses Again With The Transitions Light Intelligent Lenses Now at Owndays
Blame it on the Kardashians for bringing back night time sunnies. It all started when social media queen, Kim Kardashian, showed up to red carpet events in Balenciaga's Mask Butterfly Sunglasses. She even got her momager, Kris Jenner, to start sporting the futuristic sunnies. Now, we're seeing the influence grow from international waters to the local scene. Thus, creating the resurgence of wearing fashionable sunglasses purely as a fashion statement.
Instead of going for teeny tiny glasses like in 2016, most fashion mavens would opt for big futuristic sunnies. They come in all shapes and forms, but they usually feature an over the top bug like or cat eye shape. If you're looking for a pair of these trendy glasses, here are a few places where you can cop them.
Sunnies Studios
Retro frames are all in the past and Sunnies Studios knows it! That's why they've made a few futuristic designs for their sunglasses collection. They offer seamless shield designs that block UV rays in a sporty way.
Frame to try: Zero In Blaze Sunglasses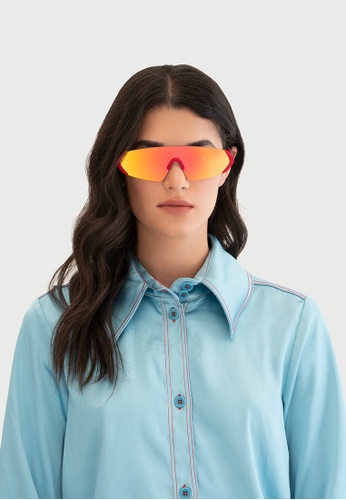 Oakley
Most would consider Oakley as the pioneer of futuristic sunglasses. Essentially, they're polarized sports sunglasses, but that doesn't mean we can't wear them purely for the sake of fashion. They a plethora of futuristic designs you can choose from.
Frame to try: Radar® EV Path®
Sorrento
This local brand specializes in performance sunglasses. You can wear their specs for triathlons, water sports, and even night driving. Despite them being sports glasses, their fashionable designs can be used for casual wear.
Frame to try: Eyehawk Polarized Sunglasses
Gentle Monster
You may know Gentle Monster from Blackpink Jennie Kim's Jentle Collection. They offer oversized frames in retro designs. But, did you know that they also have a futuristic collection? Yup, Gentle Monster came out with bug like sunglasses for anyone to purchase.
Frame to try: 5G BOLD from Gentle Monster X Coperni collaboration
Balenciaga
Why not splurge on the trendsetter of the futuristic sunnies design? The Balenciaga Butterfly collection come in different designs, such as: Mask, Dynasty, Void, and a whole lot more. There's definitely one that will satisfy your need for a new pair of sunnies.
Frame to try: Balenciaga Mask Butterfly Sunglasses